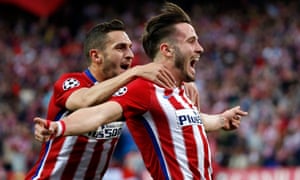 Atlético Madrid's Saúl Ñíguez, right, celebrates his stunning early goal against Bayern Munich with Koke. Photograph: Juan Carlos Hidalgo/EPA
The road to Milan must go via Munich yet, but it was Atlético who emerged from Madrid in the lead, scarves stretched across the stands at the Vicente Calderón as the club's anthem rang out. A truly wonderful goal puts them in a position to complete a truly wonderful achievement.
Diego Simeone's team are 90 minutes from a second European Cup final in three years, the third in their history. The first was against Bayern Munich in 1974, when a 120th-minute equaliser from Hans-Georg Schwarzenbeck denied them the title. They hadn't met since. Now, they have, and while there may be more drama ahead at the end of the first leg the advantage is Atlético's.
It had been since the 11th minute, when Saúl Ñíguez scored a magnificent goal that would prove the winner. The ball dropped from high, inside the centre circle where Saúl, standing alone, brought it down coolly, killing it first and breathing life into it next. He began a meandering run rightwards, seemingly going nowhere in particular and followed loosely by Thiago. Suddenly, he shifted gear and direction, turning towards goal, still 40 yards out. Thiago was left behind; now Xabi Alonso came towards him from one side, Juan Bernat from the other. Right foot, left foot, and Saúl was through them like a slalom skier through a gate.
Into the area, David Alaba took a step his way but, shifting his weight once more, Saúl opened up his body and curled the ball into the far corner. The moment was Maradona-esque, one of the great goals this competition has seen, scored by a 21-year-old. The Calderón erupted, already shaky foundations weakened a little more. Atlético had the lead; Bayern were stunned and overrun. It was early but Atlético had already taken four shots; this was Saúl's second; Fernando Torres also had two. The pressure was applied high and at speed.
The game had begun and it was some game; players seemed to be running at each other all over the pitch, the play direct and the pace often breathtaking. Bayern pushed, Douglas Costa determined to take on his man every time he could. Jan Oblak had to punch away from Arturo Vidal and was then almost caught out by Costa by the near post. Just before the half hour, Thiago found Phillip Lahm, who cut inside and shot against Augusto Fernández's elbow, arms shooting up appealing for a penalty. From an Atlético free-kick, Costa and Kingsley Coman broke at speed but the pull back was poor.
Bayern played more passes, Atlético covered more grass. The stats said as much and so did the sensations. The sensation when Atlético went forward was one of danger; more so than when Pep Guardiola's side did. Whenever Bayern lost the ball, they immediately found Atlético running right back at them. Filipe Luís dashed up the left, Torres and Antoine Griezmann sprinted onto balls over the top, and as for Saúl, well, he seemed to be everywhere.
Griezmann got all the way to the edge of the six-yard box only for his poked shot, under pressure from Javi Martínez, to be stopped by Manuel Neuer's leg. Fifteen minutes later, on the other side of the six-yard box it was Koke who had the chance, flicking into the side-netting. Saúl had made it.
The first half had ended with a long period of Bayern passing, played out to a soundtrack of whistles, before a wild shot flew over; the second began with the Germans pushing Atlético further back. Soon it seemed like the ball was permanently flying across the Atlético area. Alaba's 35-yard shot thundered off the bar, Oblak dived to save Javi Martínez's header, José María Giménez slid in to block, and Kingsley Coman's cross flashed past the six yard box.
Advertisement
This game was breathless again, only it was Atlético struggling for air now. Except that if there is a team that knows how to suffer, that has made a virtue of it, a team that can resist and not concede it is Simeone's. The Champions League goals conceded column under him, going back 16 games at this stadium, reads: 0, 0, 0, 0, 2, 0, 0, 0, 0, 0, 0, 0, 1, 0, 0, 1, like binary code for brilliant at defending.
And so it proved. Costa's attempted lob drifted over and then Vidal struck hard from 25 yards, Oblak saving. But Atlético had found their feet again, beginning to manage this game better, having a little more say in the flow of it. Or, where possible, the lack of flow. They were more comfortable now; they were also almost 2-0 up when, with 15 minutes to go, Griezmann led a break and found Torres, who cut inside and curled a shot with the outside of his foot against the post. Neuer saved Koke's follow-up.
The pace and the flow were slipping, chances fewer now, but there was no let up in the noise. When Mehdi Benatia's header was held by Oblak in the last minute there was a roar; when the goalkeeper stopped Vidal's effort a moment later, there was another. And when the final whistle went seconds after that, there was a third and the singing started. It will still be going for another week at least.