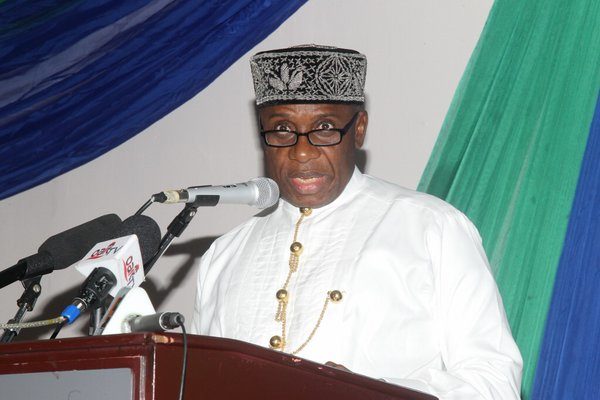 Following the accusation by Justice John Inyang Okoro that he tried to bribe him to influence the result of the All Progressives Congress (APC)'s candidates' election appeals for Abia, Rivers and Akwa Ibom states, the Minister of Transportation, Rotimi Amaechi has said that he will take steps to seek legal redress to clear his name.
Okoro, in a letter to the Chief Justice of Nigeria, Justice Mahmud Mohammed, had accused Amaechi of visiting him at his residence claiming to be from President Muhammadu Buhari.
According to LEADERSHIP, Amaechi dismissed the allegations in a statement he personally signed on Wednesday.
The statement read:
My attention has been drawn to a letter purportedly written by Honourable Justice Inyang Okoro JSC, Justice of the Supreme Court, one of the Learned Justices recently arrested by the Department of State Services as part of its investigation into the allegations of massive corruption involving some officers of the Nigerian Judiciary.
Given the level of mischief in the Social Media, I would ordinarily have ignored the letter because the allegations contained in the said letter are wild, baseless and unrelated to the issues in contention between the Honourable Justice of the Supreme Court and the Department of State Services, to that extent I had grave reservation if this letter could have emanated from His Lordship.
However, for the avoidance of doubt, let me say clearly that I have never discussed any matter pending before the Supreme Court of Nigeria with my Lord, Honourable Justice Inyang Okoro JSC, in his house or anywhere else, Period. I make bold to also state that the first and only time I have ever spoken with the Chief Justice of Nigeria, the Honourable Justice Mahmud Mohammed GCON was at the Commissioning of the Abuja-Kaduna Railway Project on the 26th of July 2016 at Idu in Abuja.
The letter by Honourable Justice Okoro is a poor attempt to politicize what is clearly a serious National tragedy and shame. I believe that the issues of corruption at the highest levels of our judiciary should be addressed objectively. It is to say the least demeaning and childish of a Justice of the Supreme Court to imply that the security operatives of our nation will arrest a Justice of our Supreme Court for no reason other than the instructions of a Minister.
Those faced with serious allegations should treat the issue with the seriousness it deserves and stop trying to court public sympathy and trivialize what is clearly a national tragedy. I have directed my lawyers to contact my Lord Justice Okoro and take whatever legal steps as may be necessary to clear my name of this baseless allegation.
Finally, let me advise His Lordship Justice Inyang Okoro to be objective in dealing with the issue at hand and not whip up unnecessary sentiments against innocent public officers. I remain focused on my assignment at the Federal Ministry of Transportation and I have no control over Department of State Services."