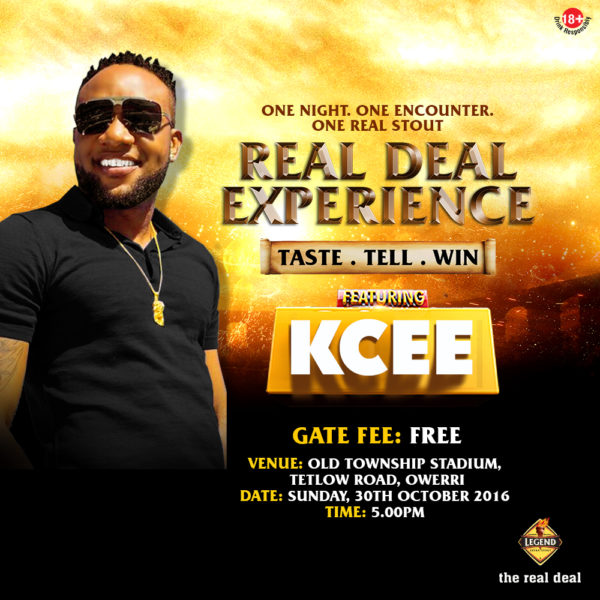 Popular music superstar, Kingsley Chinweike Okonkwo better known as Kcee will be returning to the Legend Real Deal Experience this weekend, Sunday October 30th, 2016 in Owerri.
The evening which promises to be exciting will see pulsating performances from Kcee himself alongside acrobatic cultural displays by dance troupes, performances by some local hip-hop acts and amazing onstage stunts by other entertainers at the Old Township Stadium.
Kcee returns to the tour joining other music superstars like Timaya, Oritsefemi and 9ice who have on the Real Deal Experience tour visited Okokomaiko, Onitsha, Umuahia, Ibadan, Port Harcourt, Abuja and Ikorodu.
After shutting down Onitsha and Umuahia with his performance, Kcee has expressed enthusiasm about going to Owerri to once again thrill his ardent fans.
Speaking on his expectations for the performance in Owerri, Kcee said,
"I'm so happy to be meeting with my core supporters again… It's always a blast being around them. I'm grateful Legend gives consumers the experience to not only have a good drink but also enjoy great music. I'm ready for Owerri and I'm sure they're ready for me too!"
While commenting on the forthcoming event, the Portfolio Manager- Mainstream Lager and Stout, Nigerian Breweries, Emmanuel Agu commented said,
"We are excited to once again take the Real Deal Experience to Owerri. It's always fulfilling to see the consumers have a great time and giving them this experience is a treat I'm sure they'll cherish. In addition to enjoying good music, there are lots of prizes to be won on Sunday, so I urge everyone to come out and have fun."
The Legend Real Deal Experience will also feature a full-sized rotating bar as well as exciting game shows which will see fans go away with fantastic prizes including television sets, generators and refrigerators.
The Real Deal Experience will visit other major cities in Nigeria in the coming weeks.
Date: Sunday October 30th, 2016
Time: 5pm
Venue: Old Township Stadium, Owerri.